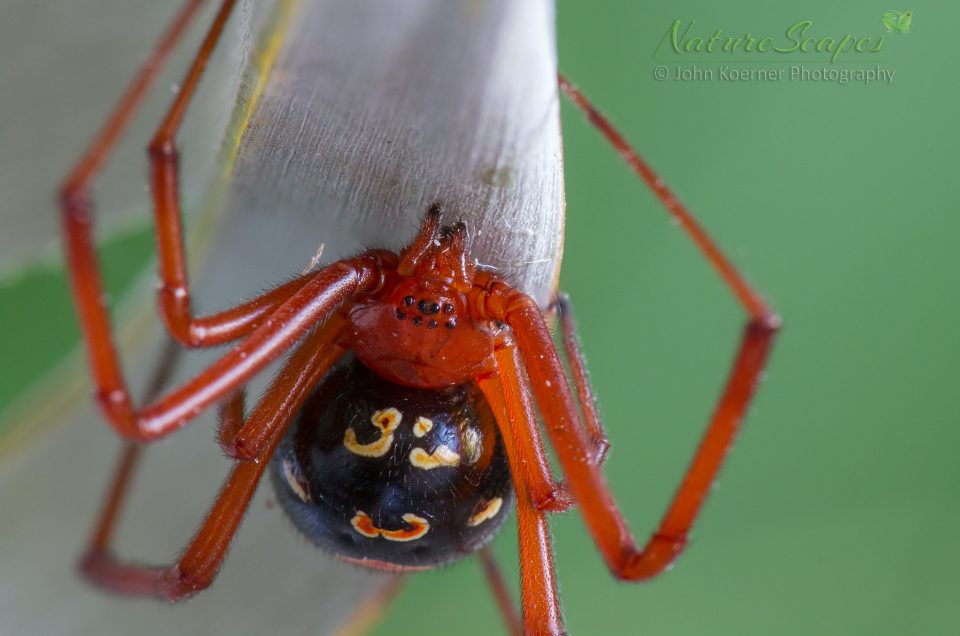 Note: This blog post and these images were taken many years ago … with Canon equipment … but I saved it because I enjoyed the experience—I hope you do too 🙂
I have always been fascinated with wildlife in general, snakes and spiders in particular. Although there are thousands of different species of spiders, there is perhaps none more famous on earth than "The Black Widow." However, what most people don't know is the black widow has an even more beautiful cousin … The Red Widow … which is very rare and entirely unique to Florida … this little-known venomous species is what I made it my business to find and photograph this weekend.
To understand how special the Red Widow is, the reader is encouraged to read about Florida Scrubland in general. Florida is a unique state in so many ways, and its scrubland community is one of its most important features. Within this ecosystem are a myriad of plant and animal species that live nowhere else in the world (not even in other sections of Florida), except for within these unique scrub microhabitats of the peninsular aspect of the state. And the Red Widow is one of these rare and distinguished species.
Well, since I have moved down to south Florida last year, I had thought that my days of seeing Florida scrubland were gone (and with it my days of seeing Red Widow spiders–perhaps my favorite); however, I quickly found that I had one of the richest scrub areas in the state quite close to me in Martin County. So Patricia and I decided to set aside a day to visit some of the local State Parks in that area, and hike through their scrubland habitats, to see if we could come across a Red Widow.
The first place we visited was Loggerhead State Park. This was right up against the beach, just north of Jupiter, and quite frankly the park was a bit crowded for my taste. Yet it was beautiful nonetheless and a host to a lot of different plant and terrain types. What we were looking for was very specific though: palmettos and scrub, because the Red Widow only builds its web within palmetto fronds in this type of habitat.
At first blush, the park looked like it didn't have the right kind of terrain, but at the other end of that tunnel were a host of palmettos and other scrub vegetation that Trish and I spent a few hours combing through:
Trish and I spent at least an hour combing through hundreds and hundreds of palmettos, but we could not find even a trace of a Red Widow spider. Not one web. We did find hundreds of webs created by other spiders; but none of them was what we were after. So we decided to try a different kind of ecosystem, up the highway a little bit, and on the west side of US 1, not the east side.
The terrain here was nice and sandy, and it was wide-open in a lot of places, which was one of the environmental characteristics we were looking for. Unfortunately, there was also standing water everywhere (due to the heavy rainfall all last week) which, unbeknownst to us at the time, is not the right kind of terrain for the Red Widow.
The day was simply gorgeous, yet (although we enjoyed ourselves) we still could find no trace of a Red Widow. But we kept plugging-on nonetheless, experimenting with different habitats within Juniper Dunes Natural Area.
We covered all kinds of different scrub terrain. | Photographing The Photographer.
Trish was trying her best to look for these spiders with me, as well as document the expedition, and I had to take my cell phone out and document her documenting me. Even though we were enjoying the countryside, we were getting a bit disappointed at the lack of results, so this time we decided to leave Jupiter Natural Area and continue on into Martin County's Jonathan Dickenson State Park.
The first place we tried in JDSP was a section of pine flatwoods where I saw lots of palmettos growing, but even this area yielded nothing. After again coming up empty-handed, eventually I took my smart phone out … not to photograph anything this time … but I decided to be, ahem, smarter about my search … so I Googled "red widow+scrub" and began to read some interesting factoids about this spider which I had missed or overlooked in my previous research.
For one thing, I discovered that the Red Widow is restricted to sand pine scrub and scrubby flatwoods, and while the Red Widow is found amongst palmetto fronds "in general," further study revealed the species doesn't like just any kind of palmetto leaves, but specifically Saw Palmetto (Serenoa repens). Therefore, what I learned was that, although the Red Widow 'can' also be found in Scrub Palmettos (Sabal etonia), scientific study showed the spider is only found in these plants ~20% of the time … whereas a whopping ~80%+ of the time the Red Widow will be found in Saw Palmetto fronds. We had been looking in the wrong types of palmettos!
Oh, but it gets better 🙂
Another specific characteristic of the Red Widow is it does not survive high humidity, and so (even though Florida is considered a humid state in general) the Red Widow needs slightly-elevated, well-drained areas of desert-like scrubland, Xeric habitat, and we had been looking in lower areas that did not meet this spider's unique biological needs. Further, I also discovered the Red Widow favors well-drained sandy areas with no tree canopy. So Trish and I drove around a bit, looking for the proper habitat, and lo-and-behold we found it 🙂
This time, we hit the bulls-eye. There was an elevated section of scrub habitat that was clearly dryer and more arid than the other places we had looked. It was also not so crowded with vegetation but more open. Better still, this one had the right kind of palmetto … saw palmetto … and, better still, the palmettos were 4-5′ high and not so low to the ground. And, as to be expected, we finally saw a Red Widow web 8)
We finally found what we were after, and by this time it was late in the day and we were hot, tired and sweaty … but absolutely elated that we found what we came for: a Red Widow web! Aside from large, strong cobweb-like webbing that is the hallmark of the species, another characteristic of Red Widow webs is that they funnel-down into a dead palmetto frond, in which the spider hides and conceals itself. This makes the Red Widow difficult to photograph in-situ. So what I had to do was go down into the dead fronds to find our venomous gal and coax her out a bit:
As you can see by the red arrow, there was our little treasure nestled deep within the dead saw palmetto fronds. Now was the time to remove the standard lens, and pull out the macro lens, so we could really zoom-in and see just how beautiful this spider really is:
As you can see by the last photo, we later were able to find a male too, which concluded our expedition: we were successful! It was a long day of searching, enjoying nature, and a bit of confusion … but, ultimately, we learned new and valuable information as we progressed, and our persistent effort turned the quest into a reality 🙂
Well, that wraps up this weekend's adventure and I hope y'all enjoyed reading our story as much as we enjoyed experiencing it.
Until next time,
Jack
(This article was originally posted on my second Blog, after I moved to South Florida, on 6/11/13.)