There are a lot of opinions out there as to what constitutes 'the finest' macro lens. This article will reflect mine. Ironically, in this age of "newer is better," my own pick happens to go back some 20 years to the Voigtländer SL 125mm f/2.5 Apo-Lanthar. IMO, this lens represents the epitome of what macro lenses should be about (super-detailed resolution + creamy bokeh + a tremendously-precise focus throw). These attributes are why the Voigtländer Apo-Lanthar macro is so highly-sought-after by connoisseurs who desire the very best in these sublime lens-rendering characteristics. With beautiful color transmission, minimal chromatic aberration, and its own "3D-effect," this lens has almost a cult following behind it.
As a background to set this lens in your mind, the brand 'Voigtländer' is an iconic name in photography, first beginning production in Vienna in 1756, thereby making it in the oldest name in photographic history … and its SL 125mm f/2.5 Apo-Lanthar Macro is arguably the brand's most famous lens, ever. Unfortunately, despite its revered quality, the Voigtländer SL 125mm f/2.5 Apo-Lanthar Macro hasn't been in production for nearly 20 years.
Where it gets interesting is in learning that this lens is not a true Voigtländer product at all; instead, the Japanese company, Cosina, leased the rights to the Voigtländer name (which it has been using since 1999). So the Voigtländer SL 125mm f/2.5 Apo-Lanthar Macro is actually a Japanese lens, not an Austrian lens. But it gets even more interesting 🙂
Despite its fine quality, the Voigtländer SL 125mm f/2.5 Apo-Lanthar Macro lens was only produced in very limited numbers by Cosina, from 2001-2002, after which the company stopped production before this lens became widely-known by photographers outside of Japan. Keep in mind that Cosina is actually the manufacturer of every Zeiss lens makes today (including the venerated Otus series), so that ought to put a perspective on things as to the quality optics Cosina is capable of 😉
In fact, legend has it the true reason that Cosina (operating as Voigtländer) ceased making the 125mm f/2.5 Apo-Lanthar macro lenses was because Cosina was simultaneously producing the the similar Zeiss 100 mm Makro Planar lens—and the Zeiss 1 macro specifics fell short in every category of what Cosina's Voigtländer 125mm Apo macro was able to do. The two lenses shared a similar (all metal) construction, shape and feel, yet, while the Zeiss is known for exceptional resolution and bokeh, its Makro-Planar T* 100mm lens (now, Milvus) only produce a 1:2 magnification, and its chromatic aberration/color-correction are substandard. By comparison, the Voigtländer SL 125mm f/2.5 Apo-Lanthar Macro lens produces a true 1:1 magnification, comparable resolution, even creamier bokeh than the Zeiss, with the added bonus of almost zero chromatic aberration, producing an almost 3D-effect to its images.
Because of the conflict of interest, and because the "legendary" Zeiss Makro-Planar lens fell short of the Voigtländer SL 125mm f/2.5 Apo-Lanthar, legend has it that industry giant Zeiss insisted that Cosina stop producing a lens that was better than what Zeiss was producing under their brand labeling. Consequently, despite being a superior lens to the Zeiss in its own right, the Voigtländer SL 125mm f/2.5 APO-Lanthar Macro lens was discontinued after only 2 years of production 🙁
Therefore, the Voigtländer SL 125mm f/2.5 Apo-Lanthar Macro lens has become a collector's item for lens connoisseurs, both because of its exceptional quality as well as because it is a very rare lens with a rich history behind it. I write all this because I am very happy to have been able to pick up a mint-condition copy of this lens, from a Japanese photographer who had kept it virtually unused since it was first purchased nearly 15 years ago.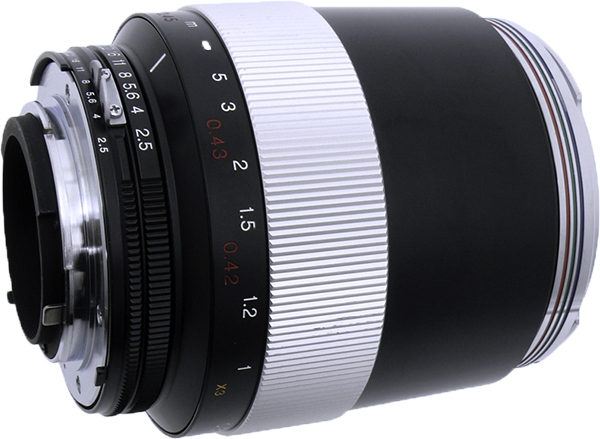 The Voigtländer SL 125mm f/2.5 Apo-Lanthar Macro lens is totally different from every other "modern" macro lens to which I am used and have grown accustomed. For one thing, the lens is made completely of metal and glass (no cheap plastic on this fine specimen!). For another, it is also a 100% MF lens (no auto-focus); every lens adjustment has to be done by hand. But what smooth, exquisite quality of operation!
The focus throw of this lens is 630° (compared to 150° to 270° of modern lenses with AF).
While this exaggerated focus-turning might not be optimal some types for field use, if you have a moving subject, the flipside to this is, when you want to do a studio stack , or take an image (or stack) of a motionless subject in the field, there simply is no other macro lens that compares either in quality of output or in smoothness and precision of operation. Here are some sample photos:
Sample Images
The key here isn't to look at the 'sharpness' alone (though it is a very sharp lens); the key to understanding the Voigtländer is to really study the subtle, ultra-realistic color-rendering, the micro-contrast, as well as the refined and buttery bokeh it offers compared to the plasticky 'others.' The Voigtländer is simply without equal in the 1:1 macro class for sublime, ultra-smooth, realistic results IMO 🙂
I hope you have enjoyed this article. If you are interested in acquiring one for yourself, take a moment to look around online. You will not be disappointed. In closing, I hope to be able to share more photographs that do justice to the quality of this lens. For the reader who's interested in doing some further research, here are some other online reviews of the classic, vintage Voigtländer SL 125mm f/2.5 Apo-Lanthar Macro:
If you are interested in obtaining a copy, they can be found on Ebay by vintage retailers and private persons.
So get one if you can 😎
Jack
---